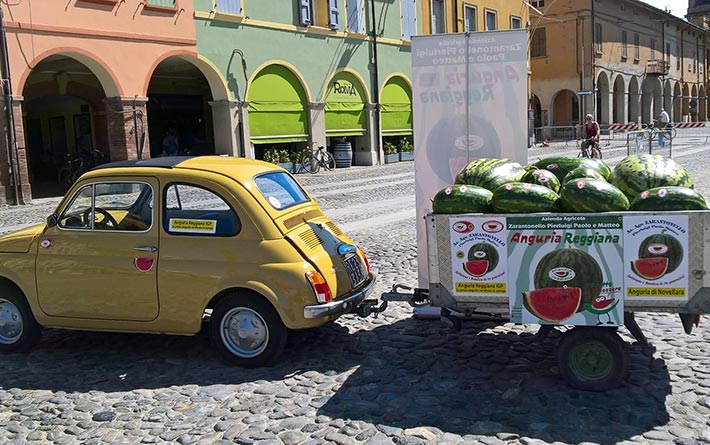 The Zarantonello farm is located in the suggestive natural context of the Novellara Valleys. Founded in 1925, it has been producing watermelons for three generations.
A family business where the brothers Pierluigi and Paolo, with the latter's son Matteo, cultivate with passion and attention to quality. Not without a touch of originality, such as, for example, taking the watermelons to markets with a 1974 yellow Fiat 500, kept as new.
In addition to Anguria Reggiana watermelons, the Zarantonellos grow grapes for making Lambrusco wine in their vineyards.
You can find tasty Zarantonello watermelons at the general markets of Milan, in supermarkets and in the three direct sales points:
1 kiosk in Reggio Emilia via Einstein, 5
2 kiosks in Correggio via Fosse Ardeatine, 3
3 kiosks Novellara via Papa Cervi, 8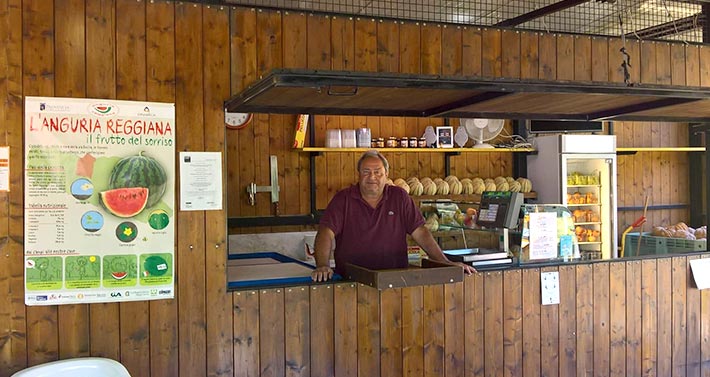 Contacts
Società Agricola Zarantonello Pierluigi, Paolo e Matteo
Strada Valle, 23
NOVELLARA (RE)
Tel. 0522 662712