ANGURIA REGGIANA, THE SOLE EUROPEAN PGI WATERMELON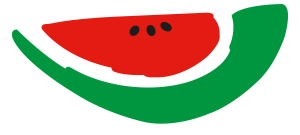 A piece of land in the Reggio Emilia countryside hides the centuries-old secret
of the cultivation of Europe's only PGI watermelon.
The climatic and environmental factors of the ideally suited lowlands of Reggio Emilia, the experience in cultivation handed down over the centuries, the development of sustainable cultivation practices, stringent quality controls and production only in season (June-September) give the Anguria Reggiana PGI watermelon its unmistakable fragrance.
Grown in strict compliance with production regulations, certified by the Check Fruit external institute, authorized by MIPAAFT, the Anguria Reggiana PGI Watermelon is an all-Italian excellence, wholesome and with a unique taste.
A fruit not only rich in beneficial properties, but full of history and stories, a symbol of the culture of a land.
Anguria Reggiana watermelon grown today, as then, with dedication and passion by a group of farmers, who make the excellence of this fruit a mission.
An endeavour acknowledged by consumers, true admirers of this watermelon, who choose it for its unique flavour qualities.
LAND AND REGULATIONS
The lowlands of Reggio Emilia with their fertile and suitable soil and the ancient tradition of watermelon cultivation give life to a fruit which is unique in the Italian and European landscape, to the extent of being the only watermelon to have obtained the PGI (Protected Geographical Indication) mark.