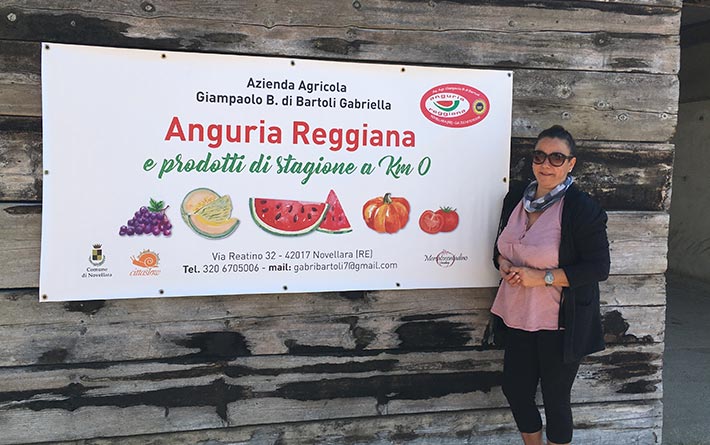 About 40 years ago Gabriella's grandparents founded the farm. As a young girl she said: "I will never cultivate the land"; in 2009 she took the business over from her father, to help him maintain traditions.
Today Gabriella says: "this is a job which you cannot but fall in love with, seeing nature grow before your eyes is wonderful. A nature to which you have to give a drink if it is thirsty, to cure if it falls ill, but it is you who has to understand the signals; nature does not tell you anything. Luckily I have a great teacher, my father Giuseppe, who taught me this job and passed on to me a great love for the land".
These are the beautiful stories of farming families, who pass on their passion for cultivation, respecting nature and its rhythms. Azienda Agricola Gianpaolo B di Bartoli Gabriella is a small family-run business where everyone works together.
Not only Anguria Reggiana PGI watermelon, but also melons and vineyards are cared for by Gabriella.
Produce is distributed wholesale to the general markets of Verona, Bologna and Reggio Emilia.
The public can enjoy their magnificent produce by visiting them:
– on Friday afternoon at the Borgonovo farmers' market in Novellara
– on Saturday morning at the farmers' market in Piazza Fontanesi in Reggio Emilia